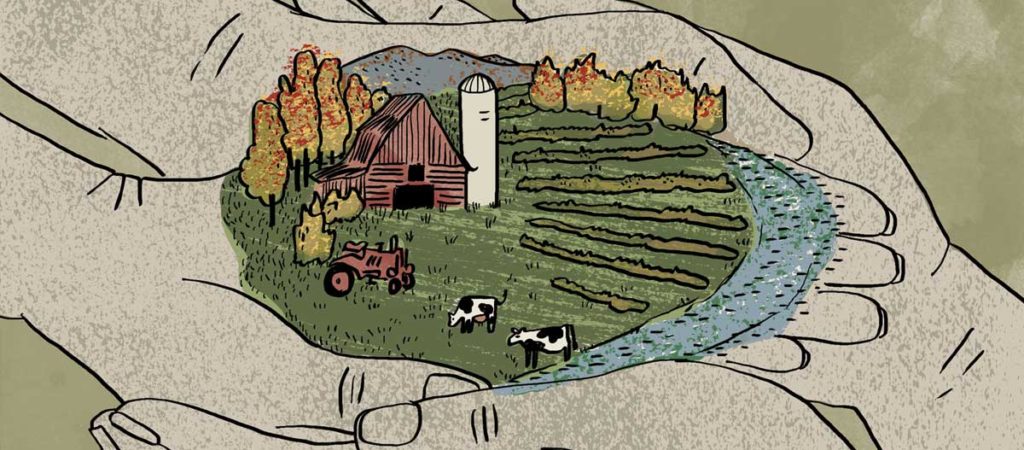 Agrarian Trust is launching several fundraisers to acquire US farmland through the Agrarian Commons (AC), an initiative of Agrarian Trust. Each Agrarian Commons is a locally governed land-holding entity that acquires farmland and leases the land back to farmers for over 99 years. Each lease is designed to be affordable, provide equity-building for the farmer, and enforce regenerative agricultural practices as well as good ecological stewardship. Each farm within an Agrarian Commons must also benefit the local community through local food production and other community connections.
As Agrarian Trust raises funds for Agrarian Commons to acquire farmland, we see an exciting trend emerging: food, land, and farm businesses are contributing to AC fundraisers and helping spread the word to their respective communities.
Tennessee
In Tennessee, Stay Golden Coffee Co. and Trade Coffee just announced a partnership to raise $5,000 through a one-on-one coffee roasting consultation offering. These funds will support the Middle Tennessee AC in its efforts to acquire and preserve the historic Windy Acres farm, one of the only Organic grain and grass-fed meat farms in the region.
New Hampshire
In New Hampshire, Greenleaf Restaurant partnered with Tito's Vodka to raise funds and provide a grant to the New Hampshire Agrarian Commons. The New Hampshire AC is preparing to take on its third farm.
Maine
In Maine, Resurgam Hot Sauce created a new product called "Little Jubba" with 100% of the profits going to Agrarian Commons and the Somali Bantu Community Association. Find it on their products page.
During the raising of $367,000 for the Little Jubba Central Maine AC to acquire farmland for Somali Bantu families in Maine, over 70 food and farm businesses came together to offer their own fundraisers, donation matching for their CSA customers, percent of sales for products, and awareness through social media shares and newsletter mentions. In total, 70+ food and farm businesses in Maine who supported the Little Jubba Central Maine Agrarian Commons.
West Virginia
The current Agrarian Commons fundraiser in West Virginia seeks $258,000 to acquire 82 acres. This farmland will help preserve Appalachia's proud agrarian way of life and support food production, access, security, and equity to realize a new land-based economy in the post-coal region of Southern West Virginia.
West Virginia has a long and ongoing history of natural resource extraction and corporate absentee land ownership further disconnecting people from land. While the West Virginia AC's vision of community ownership stands in stark contrast to these troubling realities, the food, farm, and land businesses that choose to support the Agrarian Commons are also standing against business-as-usual extraction and abuse of land. They are businesses that recognize our collective stake in the earth and are willing to direct energy and profit toward preserving the earth for future generations and restoring human connection to land.
Transforming land ownership
These are powerful examples of an emerging community of businesses working together in solidarity to reverse the trends of corporate seizure of land and profit through agriculture. We are in the midst of 400 million acres changing hands over the next two decades. Visit each of our Agrarian Commons to view all of the emerging communities that are joining in this powerful transformation.