Davey Stewards is painting when I reach him. This is part of his work as the community gardens manager at Local Environmental Agriculture Project (LEAP): revitalizing old lattice trellises at Mountainview Community Garden in Roanoke, Virginia.
"Cam is our sweetheart," he says, speaking of farmer Cameron Terry of Garden Variety Harvests and the Southwest Virginia Agrarian Commons. "He's like 'it can happen, we can do that.'"
By "it" Davey means a lot of things, all having to do with growing a resilient, regenerative food community in the Roanoke area.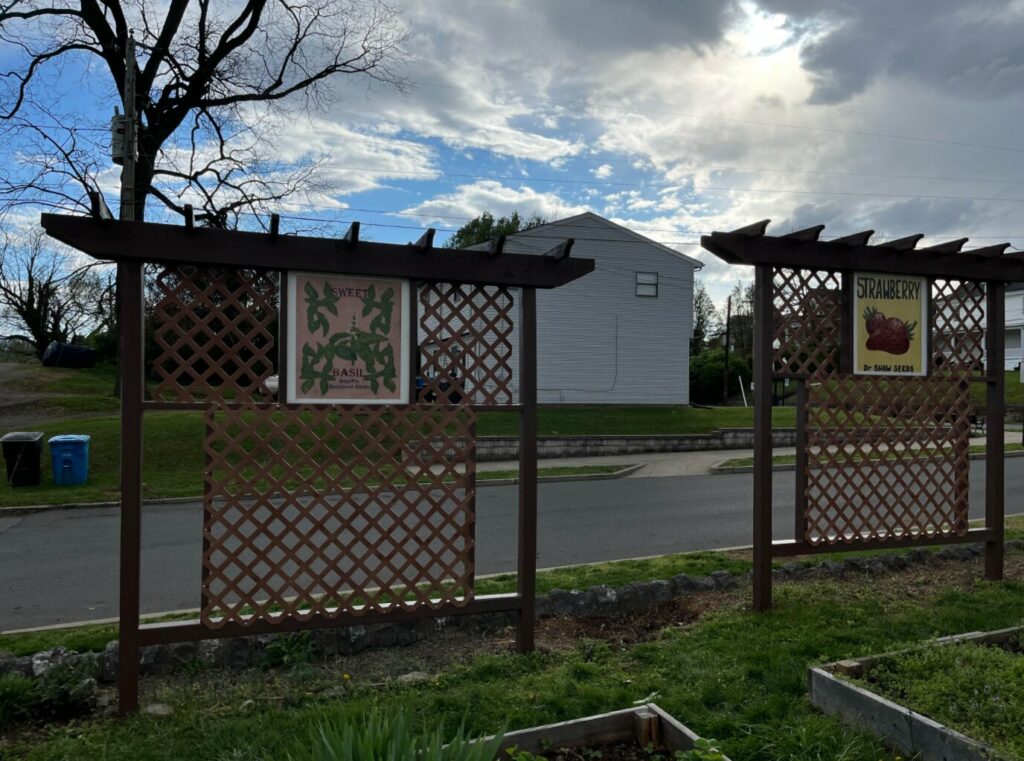 LEAP's mission is to nurture the local food community in order "to create an equitable food and farming system which prioritizes health and abundance by supporting community initiatives, markets, farms, and farmers." They are a key partner in the Southwest Virginia Agrarian Commons' first land acquisition project, where Cam's Garden Variety Harvests is the founding farm, and their support of the project is an illustration of why this model for local, collaborative governance is so powerful: it centers community, drawing strength from local relationships.
The garden where Davey is painting has fifty plots where about thirty community gardeners grow food on city park land every year. LEAP's "primary purpose is distribution," he says, "and also making food more affordable for people." They took on the community garden project in 2020 after the Roanoke Community Gardens Association folded. And they didn't just take it on: they rehabilitated a garden the association had abandoned, so LEAP now runs five community gardens in the city.
It's "just another avenue for food resiliency," he says. "One is bringing in fresh local food and market incentives for market customers, the other is people can rent a community garden plot and grow their own food if that's their passion."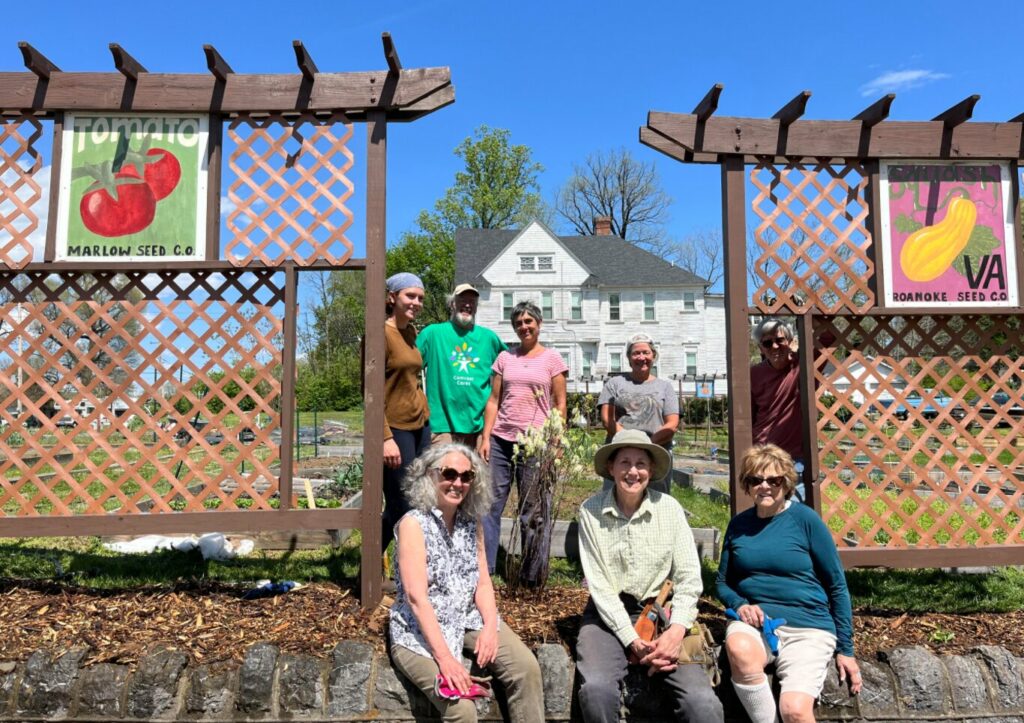 Hurt Park Community Garden, Davey mentions, was one of the first gardens where Cam farmed in the city. (Not having land or the means to buy it, Cam started Garden Variety Harvests using the SPIN model, stitching together a handful of backyard and city plots to grow carrots and okra and salad greens.) The park was named for Welford Hurt, an African American and Roanoker who died in World War II.
It also happens to be the one community garden LEAP outright owns. They're engaging neighbors and members of the community in listening sessions and focus groups this summer, and Cam echoes Davey's enthusiasm for the potential of this intentional redesign process to reinvigorate the growing space and strengthen relationships with residents in Hurt Park's working class neighborhood.
"When I started at Hurt Park," Cam notes, "there was no running water, so I raised the funds to have city water installed." He farmed ten beds there for his first two years in business, and while some of the challenges of farming there (weed pressure, for one) are among the reasons he joined the Agrarian Commons in a land search to support his dream of investing long-term in the soil he plants in (a land search that ended with the discovery of Lick Run Farm, which Agrarian Trust and the Commons are now raising funds to buy), he has high hopes for the future of the community garden.
The historically African American neighborhood is also home to large numbers of immigrants, both from Central African nations like Burundi and the Democratic Republic of Congo and from Afghanistan, and Davey sees a lot of promise for the garden.
"There are so many great growers," he says of these communities—some of whom, he adds, are also served by LEAP's mobile market, currently managed by Aaron Terry, Cam's brother.
In addition to the mobile market, LEAP runs two farmers markets in town, including the Grandin Village Farmers Market where Cam sells produce raised with Garden Variety Harvests. They also run a large CSA, and are a leading participant in Virginia Fresh Match, the SNAP/EBT matching program known in some states as "double-up food bucks."
As a recipient of Roanoke City's share of American Rescue Plan funding, LEAP is working to create a centralized food hub about a mile down the road from Lick Run Farm farm, where Cam plans to take his vision for growing food and building community to the next level. Once the funds are raised, the land will become the founding farm for the Southwest Virginia Agrarian Commons: a space where Cam can build soil, host workshops, and raise vegetables to be sold on-site as well as through LEAP's new food hub.
"I think the commons, community ag, and just opening that space is amazing," Davey says when I ask for his take on the Southwest Virginia Agrarian Commons. "And to have that designation for such a long time is really inspiring."
Garden Variety Harvests will hold a ninety-nine-year lease on the property, meaning that Cam will have land security for his entire lifetime as a farmer. Funds donated by LEAP will go to infrastructure improvements, from a demonstration kitchen to an indoor meeting space that community members can use (for free!) for meetings, yoga sessions, workshops, and more. And Davey, wearing one of his other hats as founder of the Harvest Collective (a cooperative business that among other community- and ecology-minded projects is building a compost program in Roanoke City), is helping design a perennial food forest at Lick Run.
"I'm grateful that it's worked out for our community to be able to witness it and experience it. And Cam too, demonstrating that even though he's a private LLC, he's still always looking out for the community," Davey says. Looking beyond the success of this first land acquisition project for the Southwest Virginia Agrarian Commons, he hopes to see long-term leases for additional growers in the region.
Meanwhile, once the paint on the trellises at Mountainview Community Garden has dried, Davey's going to plant cucumbers, chayotes, and American groundnuts—vines native to most of the Eastern woodlands whose tubers, also known as potato beans, were a staple for Native Americans before white settlers upended their life ways. "Then maybe some clematis," he says before running off a list of names—volunteers, coworkers, board members of the Southwest Virginia Agrarian Commons, all working towards increased resiliency and community food sovereignty in the region.