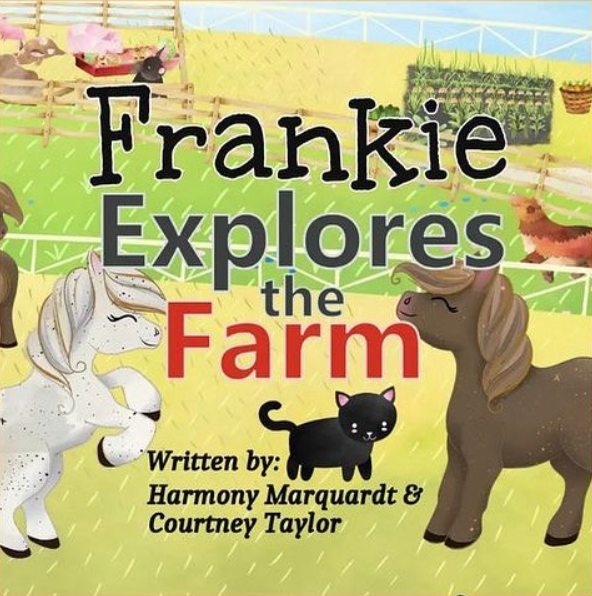 If there is a young farmer in your life, somewhere between age zero and ten, then picking up a copy of Frankie Explores the Farm can be an excellent way to contribute to the cause of land accessibility while teaching your greenhorn about everyday life on a farm. The authors of Frankie Explores the Farm, Courtney Taylor and Harmony Marquardt, are donating the proceeds from their new book to the fundraising campaign for Southwest Virginia Agrarian Commons. By purchasing a copy on Agrarian Trust's website, you can contribute to Southwest Virginia Agrarian Common's effort to raise more than $250,000 to purchase Lick Run Farm and ensure that the farm's 3.5 acres remain accessible and productive.
When Courtney and Harmony first started writing Frankie Explores the Farm, they knew they wanted to push the envelope of conventional children's books. As a mother, Harmony was keenly aware how much children love books about farms. "You know, kids love farming and farm books. I've got like, I don't know, probably five or six of them myself from my kid, cause he loves them." One of her sons even dressed up as Frankie for a school costume event.
Still, she felt that something was missing. She noticed that many of the books focus on certain features of farm life, like the appearance of animals or the noises they make, while overlooking what role the animals actually played on the farm.
After sharing her thoughts with Courtney, who also happens to be her childhood best friend, the two decided to create a children's farm book that would be, as Courtney put it, "just a little bit more challenging, a little bit more in detail about what's going on." After all, most kids have no idea where their food comes from. Harmony told me, "They know the grocery store and that's it."
By providing just a little bit more information on farm life, these authors aim to encourage their readers (or listeners) to think critically about where their food comes from, and to make informed decisions about what they eat and where they get it.
"They like making informed decisions just as much as adults do—on an age-appropriate level," Harmony mentioned. "Like are we gonna, in a future book, talk about how pigs become bacon? Probably not. That's more of a discussion for parents to have. But we can tell what other things pigs do, like why do pigs roll in the mud? It's to keep them cool, because they actually can't sweat. So 'sweating like a pig' is a stupid phrase to use. So just being real about what their purpose is, even if it's in a nice, kid-friendly way."
While Frankie Explores the Farm has a serious educational mission, it is still a fun and relatable read. The main character is a young and adorably illustrated cat named Frankie, who leaves the barn for the first time and spends the day exploring the farm. Young readers are able to discover the farm with him as he learns about how pigs stay cool or why farmers keep chickens, among other easily digested tidbits of information.
The decision to include a dedication to Agrarian Trust and donate part of the proceeds to Southwest Virginia Agrarian Commons was rooted in the authors' deep commitment to food justice. After spending time on farms around Orlando, Florida, Courtney worked for a number of years in environmental nonprofits, with a focus on Earth jurisprudence. These days, she spends her time with her dogs, Dolly Parton and Bilbo Baggins, and her cat, Peregrin Took, working to transform her two-acre plot of former farmland into a productive vegetable garden.
When Courtney learned about Agrarian Trust, it was a revelation. "I was like, this is genius," she told me. "This is so smart, and it's so perfect in its simplicity." She noticed similarities between the Agrarian Commons and English tenant plots (Courtney's mother is English). She had assumed that nothing like this existed in the United States. With many US community gardens being owned by individuals or businesses, the ultimate control of land is in the hands of a select few, rather than the community at large. The Agrarian Trust model, on the other hand, "has so many layers to it: property ownership, autonomy, the right to food." Inspired by the Agrarian Commons and its role in revolutionizing the food system, Courtney and Harmony decided to dedicate the book to the Agrarian Trust.

Courtney and Harmony's generous act couldn't have come at a better time. In the hills surrounding Courtney's home in Roanoke, Virginia, agricultural land is becoming increasingly expensive and inaccessible to new farmers. Instead of being farmed, land is developed for new and expensive residences, exacerbating the food shortage already faced by a large portion of Virginians. As of 2021, over a quarter of Roanoke residents live in a food desert.
By purchasing Lick Run Farm, Southwest Virginia Agrarian Commons will permanently place 3.5 five acres of land in service of the greater community, providing access to food and agricultural land to those who need it most. Courtney and Harmony have made a big step forward with the book they authored; the next step lies with you. By purchasing a copy of Frankie Explores the Farm and donating to the fundraiser, you can ensure that young farmers, as well as the children who find inspiration in the story, have long-term access to affordable land for years to come.