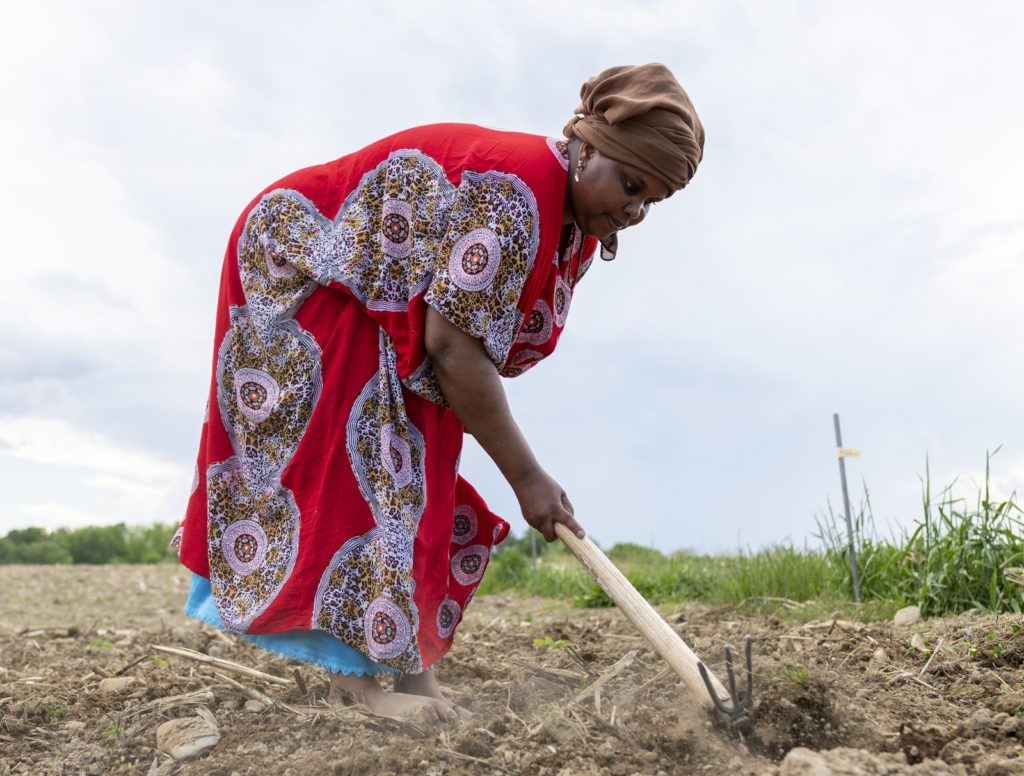 We did it! You did it!
Together, we've just finished our first farm acquisition fundraiser at Agrarian Trust in support of the Agrarian Commons, a new model for community-centered farm ownership.
The fundraiser was held in collaboration with the Little Jubba Central Maine Agrarian Commons based in Lewiston, Maine. Little Jubba is guided and led by members of the Somali Bantu Community Association (SBCA). We couldn't have done this without more than 1,500 supporters and more than 70 farms and local businesses who generously donated.
Thank you to 1,500+ donors who helped us reach the farm acquisition funds goal on August 24th, 2020!
The Little Jubba Central Maine Agrarian Commons purchased the 104 acre organic farm in Wales, Maine in September and lease has been conveyed to the Somali Bantu Community Association (SBCA). Already, the SBCA's herd of goats have arrived on the land, and the SBCA also held the first (of many) in-person Board of Directors retreats in a space large enough for members to meet in person while observing COVID safety practices. The land will expand Liberation Farms to more families growing for self-sufficiency and provide more land to the SBCA's production farmers so they can sell vegetables and flint corn more widely within the Lewiston-Auburn area and beyond via their partnership with Maine Grains.
This fundraiser would not have been possible without Maine Farmland Trust, Maine Organic Farming and Gardening Association, Slow Money Maine, over 70 farms and food businesses, and aligned financial organizations and foundations who all did noteworthy work to raise awareness, stand in solidarity, donate money, and engage their communities to do the same.
The farm acquisition means so much more than farming. It is a safe home for families, kids, and an entire community in the midst of the pandemic. Acquiring this property is a momentous first step that signifies exciting growth for the SBCA, but this is the tip of the iceberg! Learn more about the ongoing fundraiser and more opportunities to give.
HOW DID YOU DO IT?
985 Individual Maine Donors, 65% of the total, gave $138,971, 38% of our goal
431 Individual National Donors gave $35,625, 10% of our goal
70+ Farm/food/agrarian business partnerships local to Maine shared our project with their communities and raised funds through creative fundraisers.
20 Donor Advised Funds contributed a combined $93,867
A handful of Maine Foundations contributed approximately $32,000
WHY DID YOU DO IT?
Erin explains why she gave.
The Agrarian Commons is so much more than a legal model. It represents a path forward for human-scale land connection, a common language of solidarity and land justice, and a home for the next generation of farmers.
Each Agrarian Commons is a local, community-centered 501(c)(2) nonprofit organization co-created by Agrarian Trust, community partners, and farmers. The farmers we collaborate with are highly skilled farmers with deep relationships to land. There's no doubt they have the power, skills, and ability to be successful. The problem is that the privatized and commoditized way we value land in the U.S. makes it incredibly difficult to succeed in agriculture today. While each Agrarian Commons is a nonprofit, this model is not based on charity. We use the nonprofit structure to fundamentally reframe how we value and connect to land.
A Model for Solidarity & Land Justice
The response to the fundraiser has been overwhelmingly supportive, for which we and SBCA will be forever grateful. As we reflected on how the fundraiser is received, we realized how important it is for people to see the full picture of this collaboration and of the many other Agrarian Commons that exist across the country, which are all locally-organized and led.
The Little Jubba Central Maine Agrarian Commons has:
A majority Somali Bantu Board of Directors, and it is led by the Somali Bantu Community Association. SBCA's Executive Director, Muhidin Libah, is the Agrarian Commons board president.
A strong and growing relationship between Agrarian Trust and Somali Bantu Community Association, supported by shared connection to the USFSA, multi-year engagement in the Maine Farmland conference, and local collective work to develop and live into a multi-organization collaboration focused on land security for SBCA.
The full support and confidence of Agrarian Trust. We hold complete trust in the SBCA to know the right farm for them and hold their opinion in highest regard. We collaborate in solidarity with SBCA as equal partners.
Strong connections to their local community, neighboring farms, Maine Organic Farmers and Gardeners Association (MOFGA), and other supporting organizations which boosts infrastructure and longevity, opens the way for collaborations (a local mill making a unique flint corn meal), and strengthens economic security both for the farmers and the regional economy.
Agrarian Trust's track record speaks to the value we place on collaborations like this one. Our team previously completed a similar project with the Organization for Refugee and Immigrant Success (ORIS), a sister organization to SBCA based in New Hampshire, securing a purchase agreement, building a campaign, raising funds, acquiring a farm for ORIS, and supporting their farm planning and development. Like all of our efforts, this process required a long-term commitment.
Real land justice is rooted in relationships based on solidarity and shared trust, which takes time and commitment to bring about. Little Jubba's success represents so much more than an 8-week long fundraiser to purchase a farm. It grows out of years of relationship building, and we look forward to many more.