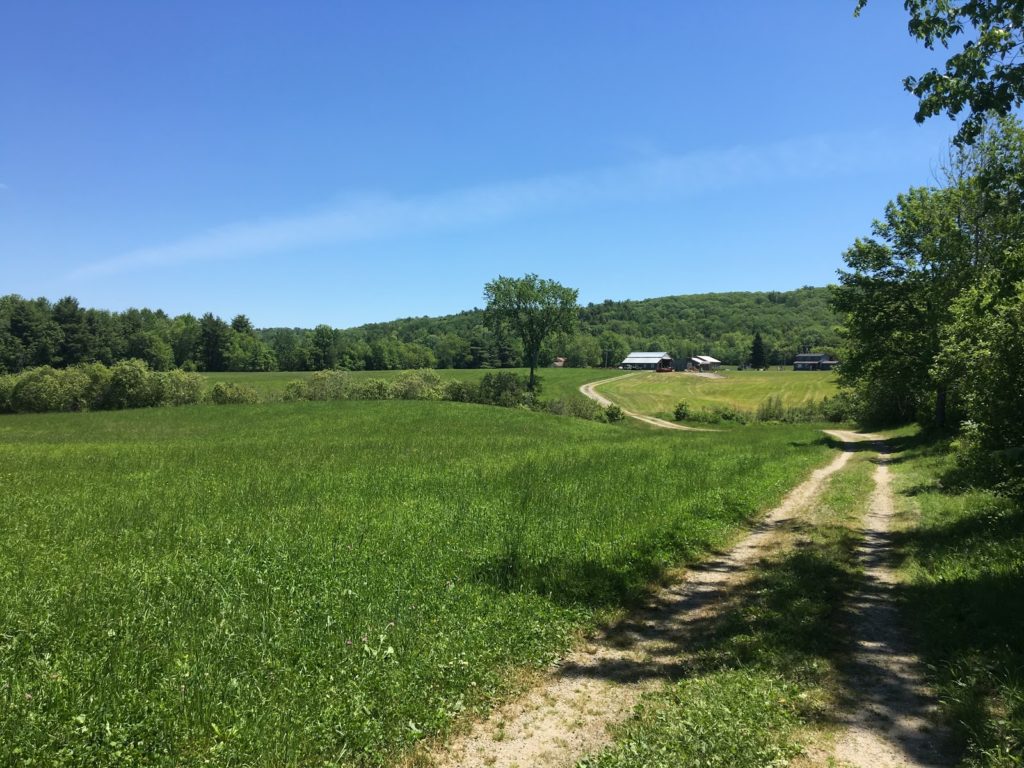 For Immediate Release
Contact:
Ashley Bahlkow
207-400-9851
[email protected]
Somali Bantu Community Association Finds Dream Farm through the Little Jubba Central Maine Agrarian Commons
Lewiston, Maine, June 23, 2020 — The long standing dream for secure farmland is quickly becoming a reality for one group of immigrant farmers. In May, the Somali Bantu Community Association (SBCA) and Agrarian Trust formed the Little Jubba Central Maine Agrarian Commons (AC), a transformative new model for community-centered land tenure. This month, the Little Jubba Central Maine AC found their dream farm, 107 acres in nearby Wales, Maine.
The Little Jubba Central Maine AC gives the SBCA the opportunity to lease farmland in a 99-year rolling equitable lease, which in turn allows the community to transfer their prized agricultural skills, knowledge and traditions to future generations. Partner organization Agrarian Trust and the SBCA are now fundraising to make this farmland purchase possible by December 1st, 2020.
"For the last 30 years we have been refugees, moving through different towns in Somalia and living in refugee camps in neighboring Kenya. For 30 years we have been looking for a place we can call home. Home in our community means a place that is safe and secure, where we can farm freely and where we can exercise our cultural traditions. Getting this property will check all the boxes and for the first time we have a place we call home."
– Muhidin Libah, Executive Director of SBCA
"Agrarian Trust is committed to raising funds for the farm acquisition, project costs, and endowments needed to purchase, manage, and steward this 107 acre farm. We recognize the importance of community land ownership, tenure, and equity. The realities of human disconnection from land, the catastrophic loss of habitat and species, the unjust food systems, and the deep need for healthy communities and earth demand transformation."
– Ian McSweeney, Director of Agrarian Trust
The SBCA engaged partners and community members in a year-long visioning process that has guided the search for secure farmland. The SBCA took inspiration from leaders in the food and land justice movement such as Soul Fire Farm, Northeast Farmers of Color Land Trust, and the US Food Sovereignty Alliance. Local guidance on land seeking came from partner organizations including Land in Common, Land for Good, Maine Farmland Trust, The Cooperative Development Institute, Slow Money Maine and others. With this advice and inspiration, the SBCA decided to join the first cohort of 10 Agrarian Commons across the country, creating the Little Jubba Central Maine Agrarian Commons in partnership with Agrarian Trust.
The Agrarian Commons keeps land locally controlled and makes it accessible and affordable to small-scale farmers so they can grow food for their community. As data now clearly demonstrates, the cost of land and access to it challenges most small farmers who don't inherit land, especially farmers of color and other socially disadvantaged groups. This model of land tenure also promotes regenerative diversified food production, collective ecosystem stewardship, and returns natural capital to land.
Agrarian Trust and the SBCA acknowledge that their farmland was stolen from Indigenous Wabanaki people who struggle for land sovereignty to this day. This Somali Bantu community relates to these struggles from colonialism, neocolonialism, and imperialism that have forced people from their traditional place.
"We've got to acknowledge that land ownership is tied to systems of white supremacy and oppression and that it's rooted in this country's history of colonization, theft, exploitation, slavery. I'm excited to think this model can be a start to outgrowing entrenched systems and shedding paradigms that are not working equitably because they are still tied to this history. While this project and Little Jubba Central Maine AC is by no means land sovereignty or reparations in and of itself, this model for land tenure creates an alternative option to the problematic and unjust system of land ownership that, in present day, still means oppression and marginalization of many people, as I've witnessed being a part of this farming program for the several years"
– Ashley Bahlkow, Program Adviser, Somali Bantu Community Association
Somali Bantu Community Association's mission is to provide vital transitional services, advocacy, and programming that empowers members of the refugee community to uphold cultural identity and thrive in their new life here in Lewiston, Maine. The mission of the SBCA's Liberation Farms is to provide new American farmers access to, and culturally-appropriate resources for, the means of sustainable food production for themselves, their families, and their communities.
Agrarian Trust is creating innovation in land ownership, access, tenure, and equity opportunities to transform our relationships to the land and each other. With 400,000,000 acres of farmland currently changing hands, and with 98% of all farmland being owned by white people and a majority of non-farmers across the country, the time for transformation in how land is owned, accessed, valued, and used is now. Agrarian Trust is collaborating with stakeholders, networks, and collective efforts, and creating the local Agrarian Commons model to own land, farms, and agricultural assets and convey tenure to the next generation of farmers and ranchers to foster a regeneration of the land and care for the Earth.
Learn more about the Little Jubba Central Maine Agrarian Commons
Support this land acquisition project directly by donating to the Little Jubba Central Maine Agrarian Commons
Follow: @agrariantrust @somalibantumaine

###