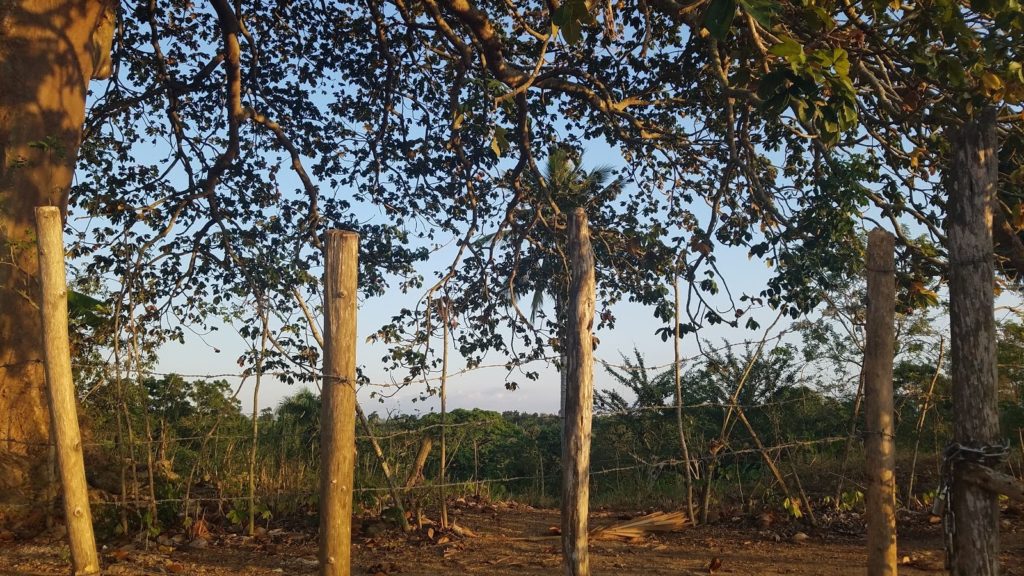 By Vanessa García Polanco
"The land should always be there, you should always own some. Money goes away and you can spend it really fast. I don't like to sell or give away things I inherited." – Alicia Alba, my grandmother
As I set foot in the lands that belong to my grandmother that she is currently renting out, I don't recognize that land anymore. The tenant is growing yuca, or cassava. We never grew that while the land was under our management. Growing up, we would visit my grandma's conuco in the countryside, the farm field or plantation with plantain trees, and some fruit trees and plants like grapefruit and sugar cane. I would run around picking up flowers and cherry tomatoes growing unchecked in the field. It's thirty tareas in the Dominican land measuring system, or almost two hectares in Hato Viejo, Cayetano Germosen, Espaillat, Dominican Republic. Located in the middle of Cibao Valley, the land of this valley is prosperous and fertile. My grandma always regrets that she was never able to acquire fifteen extra tareas, so that her son and two daughters, upon her death, could inherit more land. Since I can remember, my grandmother has been concerned with the succession and the future of this land. Regardless, we are not allowed to talk about it today. That is taboo. It will show too much "financial interest" on our part to ask these questions while she is still alive. In the dead of night, with my grandmother asleep, I ask my mom what she thinks will happen with this land after my grandmother passes. She is convinced her brother and sister will sell it, and she is not sure what she will do with hers. I am not surprised by her statement–her brother and sister migrated here long ago–and this wouldn't be the first time our family has lost land due to fragmentation, lack of succession, or "selling out."

Disputes over land ownership, agricultural production, and concerns about how the future of Dominican landscapes and agriculture will look like persist today in the Cibao Valley, around this Caribbean island nation, and around the world.

During the last half of the 20th century, agricultural reform policies in the Dominican Republic stripped away land from many rural people, then an economic recession led to a wave of migration out of the Dominican Republic to the United States. Some scholars believe it was part of a conspiracy between the Dominican government and the Dominican elite to push out of the country the mostly poor, rural, and dark-skinned Campesinos, or people of the countryside. During those critical years, the Dominican economy changed significantly, and more than 350,000 Dominicans left the island.1 Today, only 12 percent of the Dominican population is involved in agriculture. 2 These stories of migration, loss of land, and the plummeting number of people in agriculture are not unknown along the dirt roads of rural Dominican Republic or in my own family.

One by one, they went to work in clothing, toy, and shoe factories in New York City. They brought with them their spouses, their children, and by the time of my sister's birth in 1999, she and I would be the last grandchildren to be born in the Dominican Republic. They aren't coming back, perhaps their cadavers will be buried in our hometown, perhaps some will retire back to the large city nearby, but their children and grandchildren have no intention of coming back and running in the conuco. Just like that, entire generations became deprived of their inheritance and their right to work the land.

"You can take her out of the campo, but you can't take the campo [countryside] out of her," my mother declared when I announced my concentration in sustainable agriculture and food systems within the environmental and natural resources economics major only two years after migrating here (now more than seven years ago). The fertile Cibao Valley of the Dominican Republic where I grew up left a longstanding impression on me. After all, our landscapes and food shape many aspects of our identity and worldview. Today, as I pursue a graduate degree in community food systems and agriculture, I aim to stay connected to the part of me that could have been.
Somedays I dream of going back and starting an organic farm, an ethnobotanical garden on that land, or rebuilding an old farmhouse where the other grandchildren can come back to–a place that is productive, alive, and that we share a connection to even while living in the United States. Not something remote in our mind, history, or on a piece of paper. Or something like my sister in la diaspora, Ysanet Batista, plans to do soon: the Mama Tingo Eco Bed and Breakfast Farm Cooperative, a farm cooperative that trains Dominicans and Haitian farmers on organic food production and that heals land-based and racial trauma. I wish I was brave enough to force this conversation about land succession and the future of this land while my grandmother is still alive. For now, until I am brave enough, instead I daydream and write dreams on a Google doc, always faced with the same question: How will I convince my grandma? My family? How do we talk about the future of this land and our family's roots while avoiding conflict, greed, death?
Sometimes, I prefer to look back at my past roots, instead of towards my future roots. While attending many Young Farmers Nights in Southern New England, I was surprised by how many of us struggle with these issues of land succession and land access as future, new, young, and beginning farmers. At these events, I dream of becoming a farmer in this area, or sometimes I look at climate maps to understand which climate and states I could grow the crops I want to: plantains, cassava, tropical fruits, etc. The problem is that, as an immigrant who has moved around the United States four times in the past seven years since migrating here, I feel like a permanent transplant, unable to grow roots. Every place seems temporary.
Nevertheless, there is hope. Like when I met Margarita and Teodulio, at a Young Farmers Night event. Dominicans like me, immigrants like me, they were the first Dominican immigrants I met that were farming in Rhode Island, where Dominicans are the largest Hispanic minority. 3 Agricultural producers in the Dominican Republic, upon arriving in Providence, RI, they started gardening and then farming. They are committed to urban agriculture and growing and making culturally-rooted foods for their fellow Dominican community members. Out of the more than one million Dominican immigrants and Dominican Americans in the United States, they were the first I met who were farming in the United States. 3 Immigrants and refugees from around the globe continue to find in agriculture, through different scales and environments rural and urban, an opportunity to connect with the American soil. 4 Agriculture has been a pathway of opportunity for many generations of New Americans, and they should be able to climb the ladder from farm worker to farm manager to farm owner. Yet, dispossession, land loss, market policies, and consolidation have dislocated many people and communities from their connection, stewardship, and ownership of the land. There is still an opportunity for reconnecting and empowering a whole generation of New American communities to reclaim their agrarian tradition, be that on U.S. soil or abroad.
Land is coveted, desired, loved, even envied, but you have to be brave to fight for it.

Between Two Islands. Dominican International Migration. Sherri Grasmuck and Patricia Pessar. 1984. Book.
World Bank. Dominican Republic Agriculture Report. 2018. Web.
Migration Policy Institute. Migration from the Dominican Republic. 2019. Web.
Agrarian Trust Principles. 2019. Web.
Vanessa García Polanco has served at the local, state and regional level to promote democratic empowerment, racial equity and visibility of immigrants in food systems as a network member of Food Solutions New England and the Northeast Sustainable Agriculture Working Group. Vanessa is an alumna of the Food Solutions New England Network Leadership Institute and the University of Rhode Island and she is currently a graduate student in the Department of Community Sustainability at Michigan State University. Vanessa is a New American. As a woman of color and immigrant from the Cibao Valley in the Dominican Republic, she brings her identity and experiences to inform her research and advocacy activities.