The effort of the Central Virginia Agrarian Commons to raise $145,000 to purchase a 5.2-acre piece of land, and transform it into Petersburg Oasis CommUNITY Farm, has begun making waves in Petersburg, Virginia. 
"The response to the potential of it has been super dope," said Tyrone Cherry III, one of the lead organizers behind the effort to acquire the land, in a recent interview. 
"Last week the farmers market had a raffle in honor of the farm that's coming… It's cool, they got word just like, two days before, and they're trying to make that impact investment." He continued, "We needed a sense of hope; we needed something to look forward to, something big, and you know, this is it!"
Tyrone Cherry is an educator, organizer, and gardener who has dedicated himself to the growth and well-being of the Petersburg community. As founder of Petersburg League of Urban Growers, project assistant of the farmers market, and co-coordinator of the Power of Produce hub through the Petersburg Healthy Opportunities, Cherry has played a critical role in expanding access to healthy, affordable food in Petersburg.
At the center of Cherry's approach to developing urban agriculture in Petersburg is the power of community and the promise of collaboration.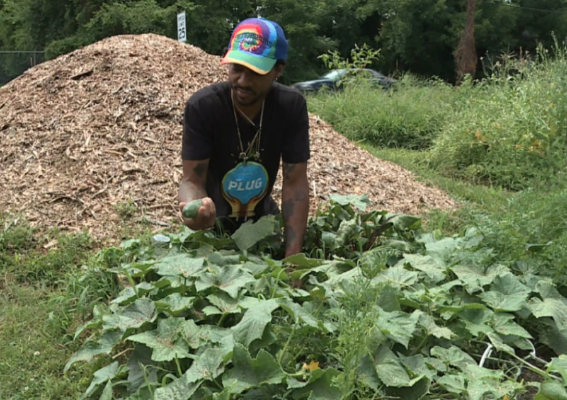 Even the name of the new farm, Petersburg Oasis CommUNITY Farm, Cherry explained, is a reflection of the farm's potential to serve as an oasis of hope and community in a city that was identified as a food desert in a 2019 report released by Virginia Commonwealth University. 
"I look at my street, right off the main street in Petersburg," said Cherry, "and from my house to the grocery store, which is only two or three miles away, you run into about five fast food restaurants, not including 7-Eleven… I hadn't recognized that, and I wondered how many people had failed to recognize that. When you live in the desert, that's just kind of where you live. So we decided we were going to build an oasis."
At the same time, the title of the farm emphasizes the importance of community collaboration in achieving this vision.
"To put 'CommUNITY' with [Oasis], and purposefully, intentionally capitalize 'UNITY' within 'community,' is to remind us that as long as we are working together, we can turn this into an oasis," said Cherry.
Cherry developed his community-oriented approach through working for over twenty years as an educator. As a science teacher, suspension supervisor, principal, and homeschooler, Cherry has learned firsthand the importance of creating spaces where students can gather and collaborate on meaningful projects for the benefit of their community.
Cherry created his first community garden—the original Petersburg Oasis— with this in mind.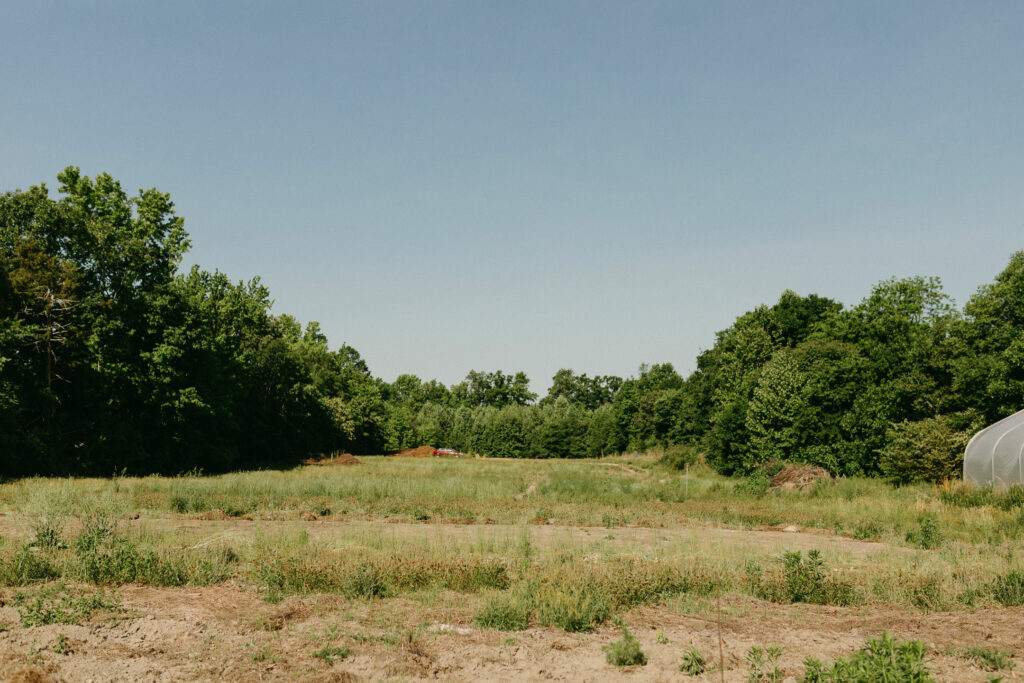 "I was teaching at the Peabody Middle School at the time," explained Cherry. "I was the in-school suspension teacher, so I was seeing a lot of the youth that were getting into trouble—the quote-unquote 'trouble makers'… So what I started to do is tutoring those kids, I started making sure they did their work when they were in ISS so they weren't just sitting there. That turned into me developing a relationship with a few of the young men in ISS, and we started a group, after the Mike Brown shooting, called RaiseGrades4MikeBrown."
When Cherry raised the idea of building a community garden with the RaiseGrades4MikeBrown scholars, they enthusiastically agreed to lend a hand.
"Me and those six boys, we built six raised beds and we put them in my front yard, and opened it up to the neighborhood," said Cherry. "It's been growing since then to the fifty-bed garden we have in the city now—this community farm."
As more young people approached Cherry about getting involved in community gardening, the program expanded quickly from a club of middle school boys into a youth group centered on teens of all genders and gender identities—the PLUG Environmental Youth Social Club. As part of the program, Cherry gathered up to twenty students per week for Teen Town Halls.
Access to healthy, affordable food was at the center of the students' attention.
"We would talk about the problems that they recognized in Petersburg, and we would talk about solutions," Cherry said. "And it always came back to food. We really weren't big on 'let's stop the gun violence.' It was about peace. A lot of it was about peace and community and togetherness. When we talked about solutions, it was gardening and agriculture. Environmental stewardship, period, always came back into the conversation. It was 'let's get people to walk the local trails, let's get people to garden, let's get people to grow plants.'"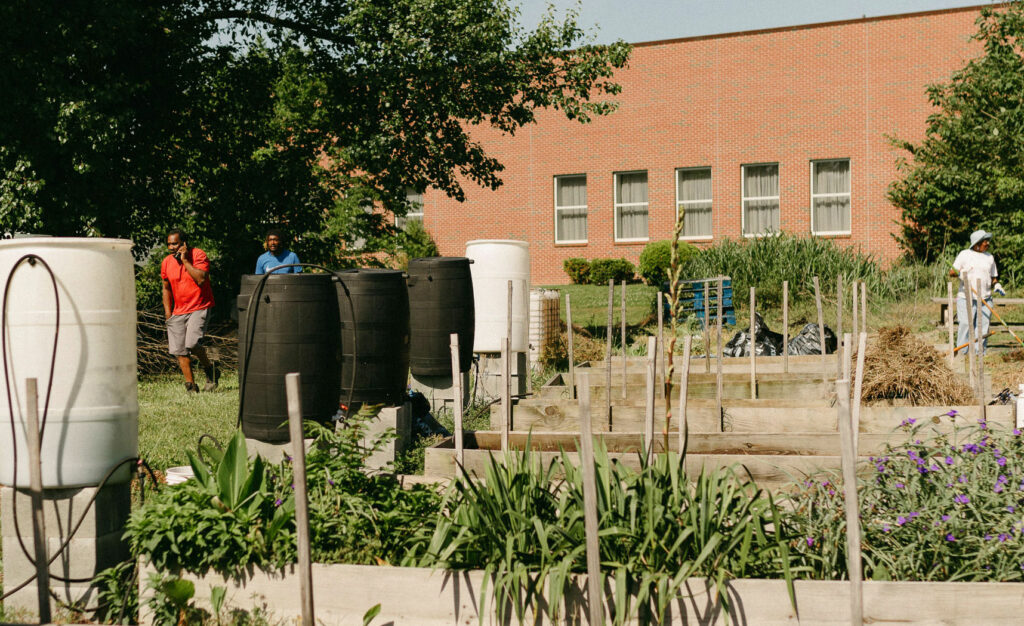 Now, the 5.2 acres of land to be acquired by Central Virginia Agrarian Commons has the potential to make this vision a reality. Cherry, who spent several years working as a farmhand for the land's two previous owners, has had his eye on the 5.2 acres for over six years.
The first owner Cherry worked for offered him an acre to develop for community use. When that plan fell through, Cherry held true to his vision and convinced the next owner to allow him to develop a piece of the land for use in a farm-to-school program. Working closely with Brendan Jackson, a farm-to-school assistant working for Petersburg Healthy Opportunity Partnerships (PHOPs), Cherry created a farm-to-school curriculum for the neighboring middle school. Although the middle school eventually lost access to the land, Cherry explained, "The program is set up: it's there, there's a curriculum, the school is there, it's just missing the farm."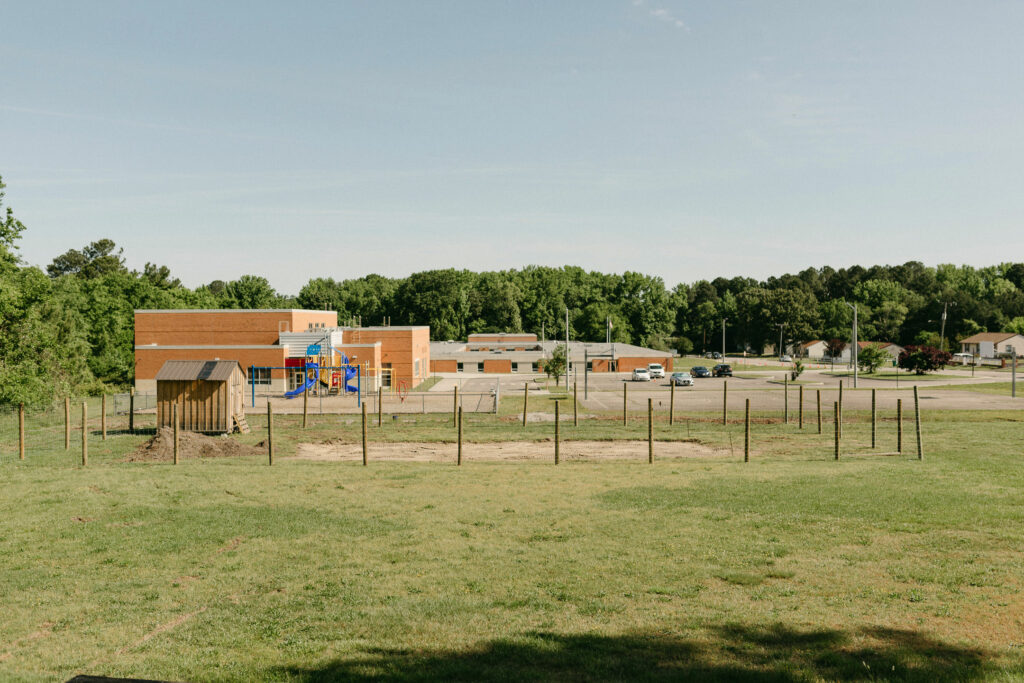 When the land came up for sale, the partnership of Agrarian Trust and Central Virginia Agrarian Commons was exactly what Cherry was looking for. "To me, it was a godsend; it was exactly what we needed, when we needed it," he said. Agrarian Trust was able to match the scale and complexity of Cherry's vision for the land, while providing the support and guidance necessary to permanently transfer the land into community control. 
"Just working with an organization that recognizes the problem, recognizes the challenge on a level beyond ours but also has implemented solutions on various levels in different places, it just made sense," continued Cherry. "It's almost like having a coach, a guide, or someone you can trust."
In the end, however, it has been the tireless organizing of educators like Tyrone Cherry III, visionary youth like the PLUG Environmental Youth Social Club, and community organizations like PHOPs and Petersburg League of Urban Growers, that made Petersburg Oasis CommUNITY Farm possible. 
Once the land is acquired, Petersburg Oasis CommUNITY Farm will provide access to healthy, affordable food for residents living in Petersburg's food desert, along with educational opportunities for students and adults to learn about food production. The farm will also serve as an incubator for beginning farmers who might otherwise lack access to land or training opportunities.
"What it means for our community… it means a sense of hope," said Cherry. "It's a light in a very dark time, not just for our city, but even for our country. And its potential for our youth, to know that something besides a place like Walmart exists here—that's big. Something to be proud about, to say we have a community farm, something we've worked for—to have that kind of light in Petersburg."
By donating now, you can help Central Agrarian Commons purchase the 5.2 acres of land and transform it into an oasis for the city of Petersburg, Virginia. As Tyrone Cherry puts it, "Petersburg is growing. We are growing, and we are growing. This is going to be an incubator for the community, a space where we can learn… and when I say 'learn…' I want to leave the dot dot dot wide open."