A Tireless Crusader for Fair Labor on the Farm
Jim Cochran calls himself a "persistent son-of-a-gun." It's an apt description, given his record.  He's the founder and general manager of Swanton Berry Farm, a 200-acre operation with 80 acres in organic fruit and vegetable production on California's Central Coast.  Swanton is well-known at Santa Cruz and San Francisco Bay Area markets for its strawberries, broccoli, peas, and fruit jams.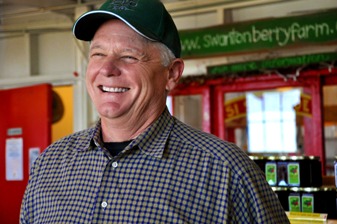 Eking out a living from the soil is a struggle in itself, but Cochran's quest since he started farming 45 years ago has gone beyond growing the perfect strawberry.  "I've been trying," he says, "to elevate the farmworker status."
It all started in 1970, when Cochran began his career on the land.  He joined with a burgeoning group of farmer-owned worker co-operatives in the Santa Maria area of California.  Their goal, according to Cochran, was to create "opportunities for Mexican farmworkers and sharecroppers to become farmers."  And they believed the co-operative model could get them there.  They leased land, had over 200 farming families in their membership, and had millions of dollars in production, infrastructure, and marketing.
Unfortunately, their idealism didn't translate into successful business strategies.  "The model that I worked on ultimately turned out not to work," Cochran says.  The co-ops went into debt and eventually folded.  But Cochran came away from that experience having learned a lot about business, organization, and farming."
In 1983, he took this knowledge and started Swanton Berry Farm with a business partner.  They rented a tractor and planted strawberries.
Cochran struggled as a beginning farmer.  He farmed on rented land, lived in a shack he had built for himself, earned far less than minimum wage for many years, worked a second job, hardly took vacations.  Eventually, his partner left to pursue another career path.  Cochran, now at the helm of the Swanton Berry ship, decided to sail his farm towards full organic certification. His business swelled alongside the rising tide of popularity for the organic label in the late '80s.
As Swanton Berry increased in size and success, Cochran continued thinking about labor issues.  "My concern," he says, "is for all the people in farming and food-related industries who are not getting anything out of the deal other that slightly above minimum wage."  So when the United Farmworkers began organizing in nearby Watsonville, Cochran decided it was time to unionize his employees. "I had a chat with the president of the UFW and they talked to my employees."  He had about 8 workers at the time, he recalls.  "We signed a union contract a month later."
Unionizing was a step.  But Cochran felt it didn't go far enough to address the issue of ownership, which, he says, was "why I got into farming in the first place.  To try to help farmworkers transition into owning their own business."  So he did some research and discovered an option called the 'Employee Stock Ownership Plan' (ESOP), whereby the company automatically gives stock ownership to employees for no upfront cost.  The stocks are essentially part of a worker's remuneration and can be sold for cash when the employee decides to leave.
"The ESOP model looked interesting to me," Cochran says, "because it had a good entry/exit system where you work for a short or long time someplace and you build up equity.  Then you can take your equity out of the business and not have to dissolve a partnership."  Companies like UPS and Southwest Airlines are structured as ESOP's.  "But nobody had ever done that in agriculture," according to Cochran.  In 2006, Swanton Berry Farm became the first.
But it didn't exactly go as planned.  "It's not a cute story," Cochran says. "It's not what you want to hear."  What he means is that in the eight years since he first implemented the ESOP model, it has been losing the farm lots of money.  And the farmworkers Cochran hoped to help out haven't seen any benefits yet.  Why?  According to Cochran, the administrative costs of running the ESOP are almost double the amount of contributions going into the equity funds. And he had no grant money to start up the ESOP.  Instead, he financed the cost of implementing this new business structure strictly from the sales of his strawberries.  "You can see right away there's a problem," he says.
Cochran believes the fatal flaw, though, is the size of his business.  Swanton Berry Farm has about 25 employees now, and that's proving too small for a successful ESOP.  Now he's debating whether to keep it going.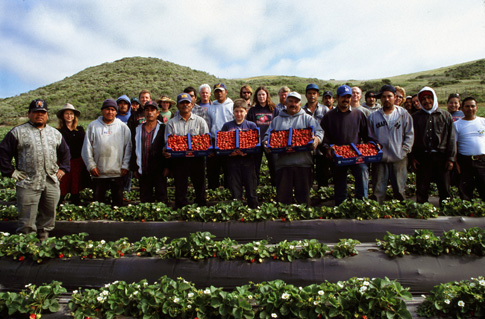 But, Cochran, remember, is "a persistent son-of-a-gun."  And even after years of losing money trying to give his workers a substantial piece of the pie, he's decidedly optimistic about the potential for ESOPs as a business model.  "What I like is that it's very democratic," he says.  "It's a retirement plan regulated by the Department of Labor like a pension fund… Employees automatically have the stock.  They don't pay anything for it.  They earn it through their work.  And everybody participates."
So Cochran hasn't given up on the ESOP.. yet.  But he does have another idea in the wings.  He's co-founder of a new project called "The Food Commons," which will launch in Fresno, California next month.
The mission of The Food Commons seems a bit lofty and abstract at first glance — They aim "to develop a new physical, financial and organizational infrastructure for localized food economies that are fair, just and sustainable for the health and well-being of our people, our communities and the planet."  What this seems to mean on the ground, is that the project would help farmers and food producers with the three essentials: land, finances, and distribution, all while emphasizing community ownership and collective well-being. It's the fair food system Cochran has been trying to foster all these years.  And believe it or not, he says it will have an ESOP built into it.
For all his focus on equal ownership of the farm business, Cochran himself doesn't own any land.  He rents from a patchwork of owners: state parks, land trusts, and independent families.  "That's how I've been able to do some of the innovative stuff," he says.  "Like paying union benefits for 15 years."  He questions the new crop of young farmers who are so intent on owning their land. "I'm interested in models where young farmers don't own the land," he says.  Models more like the commons, perhaps.
It's springtime at Swanton Berry Farm — strawberry season.  He's planted 12 acres of them this year.   At 67 years old, Cochran is still out there working.  But he is thinking about who will take over down the line.  He says his 23-year-old son is more interested in technology than agriculture.  So he imagines that ultimately, he'll sell his business to The Food Commons.