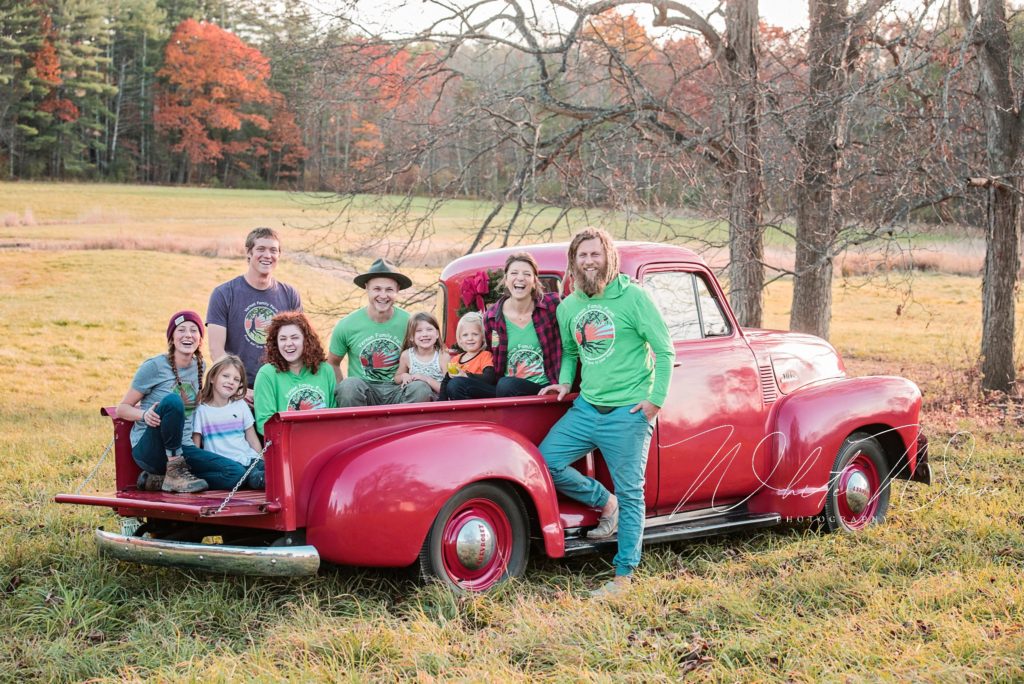 Situated on 33 acres in Newfields, NH, Vernon Family Farm is a pastured poultry operation focused on regenerating soils, community, and connections to food. The chickens are raised with non-GMO grains, are USDA certified, Halal inspected, air chilled, and every part of the animal is processed and used. Along with a value added product line named "Wicked Chicken" which includes a rotisserie chicken, soup, and pot pie, the farm offers an incredible selection of cuts and preparations for their customers such as chicken sausage, ground, offal, skins, and broths. In addition to their meat offerings, Vernon Family Farm also sells rainbow eggs from their pasture raised hens and a variety of farm products from Brookford Farm and other local NH farms.
Jeremiah and Nicole Vernon purchased the farm in 2014 and have just celebrated 5 years of growing their business, community, and family on the seacoast in Newfields, New Hampshire. Along with their daughters Magnolia, Indigo, and Pingree, Jeremiah and Nicole and their two crew members Alex and Melissa share chores and farm operations. One of the focal points of the business is utilizing methods, practices, and operations that are regenerative for the land and community. For this reason, Nicole and Jeremiah lease an additional 20 acres across the road on a neighboring farm to allow their fields to be managed rotationally with considerations for regeneration, rest, and additional uses for habitat for pollinators and community members alike.
It felt very natural for Jeremiah and Nicole to transition their life to the land full-time. Jeremiah grew up on a homestead and the work ethic and intuition that went along with raising livestock was instilled in him at a very young age. He went on to study biology at Bates College and after graduation began working on a dairy farm. His passion for agriculture and livestock rearing grew and he continued to pursue farm experiences to hone his skills. Nicole was raised by her Polish parents in a bilingual household that instilled a passion toward language and culture. She and Jeremiah are carrying this forward raising their children bilingually. Nicole fell in love with the farm life after meeting Jeremiah and fell in love with their farm when running the cross country trails with the runners she coached as part of her work as a full time Spanish teacher in the local community.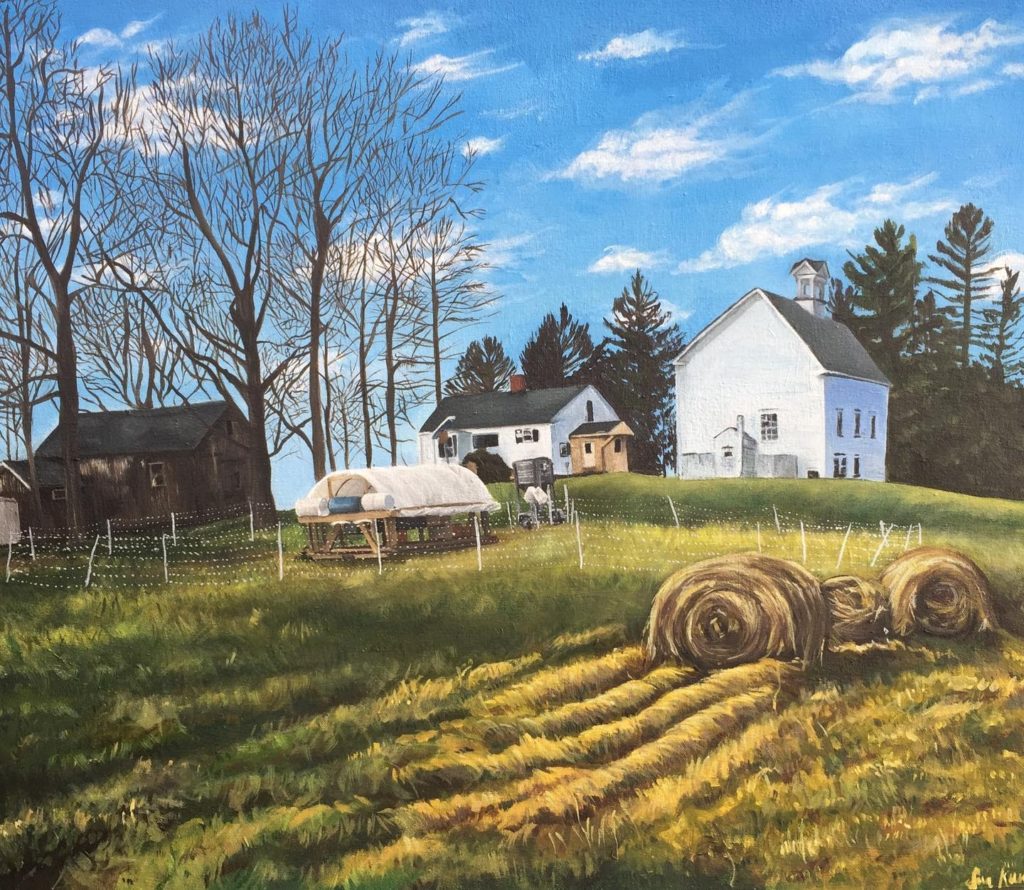 Vernon Family Farm was born from Jeremiah and Nicole's shared passion for animals and the environment and has grown to boast an on farm store. At the store, all of their products are available for purchase along with other local products. Nicole was struck by how positive it has been for the community opening the store. "Operating VFF has made us more conscientious about what sort of impact a local business can have, particularly the sort of positive impact a local farm and farm store can have for a community," she says. The farm also offers many other opportunities for the community to engage, including chicken themed dinners and on farm events.
When it comes to the day to day of farm operations, Nicole and Jeremiah have their own favorite tasks. Nicole has fueled her workdays with the fulfillment that comes from sharing with her customers, not only the nourishing foods they offer, but also recipes and information about healthy food choices. She carries this message to an even wider audience through her management of the farm's social media presence on both Instagram and Facebook. When Nicole needs a break from it all, she can be found keeping bees and with the laying hens; she loves their little personalities and how sassy they can be. Jeremiah loves the farm because he loves to be outside. He finds his greater purpose when he is able to move his body, use his mind, and build things with his hands.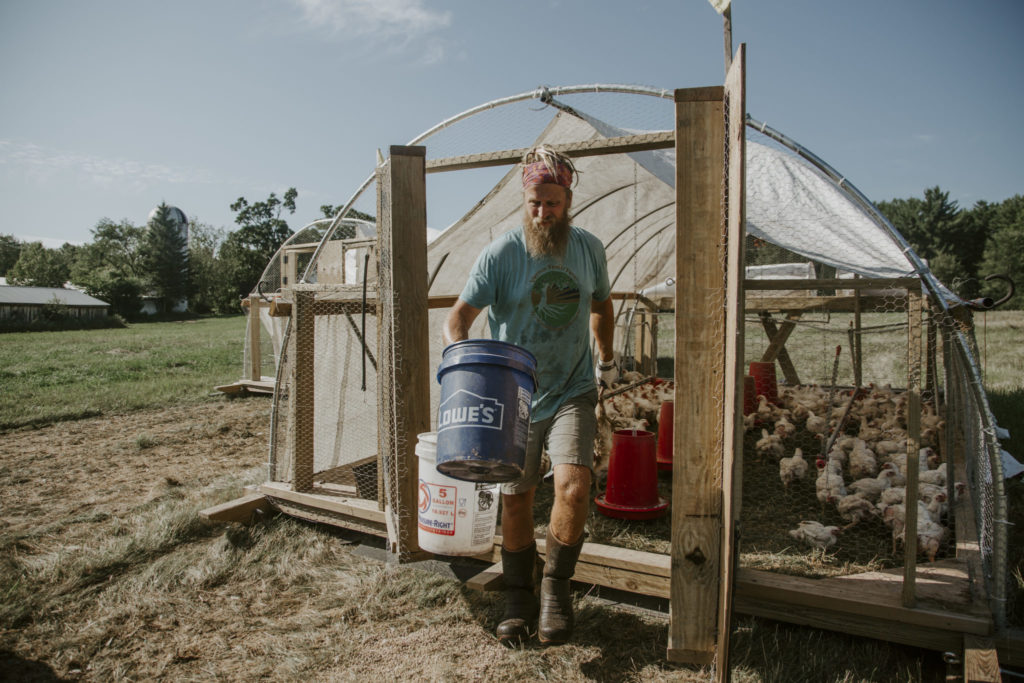 While the farm has been successful, it isn't always easy and the family faced many challenges when getting started. As 1st generation farmers without land, starting the operation brought about many financial stresses and difficulties. The couple faced even more issues when dealing with neighbors who were not accustomed to people working the land and raising livestock. Their own challenges and the challenges they see other farmers face today leave Nicole and Jeremiah decidedly pessimistic about the future of farming in the United States.
"Small farms should not be land insecure or barely able to afford the land and resources required to operate a small farm. In addition, the benefits to the land that small farmers invest in and steward are not considered in the current land use culture. Extractive land practices are not sustainable," Jeremiah continues, "The rapid evolution in the farming industry towards chemicals, consolidation and lower net profits, will greatly shape its future. Small, non-corporate, non-commodity, non-extractive farms will continue to face substantial obstacles in accessing the marketplace in a profitable way. In addition, climate change requires farms to adapt their production practices in ways previously untested."
One way that Nicole and Jeremiah do believe they are helping within these greater issues is by continuing to awaken their customers to the impacts of their food choices. As more people become aware of and truly value where and how their food is grown, there will be more market opportunities for small farms like Vernon Family Farm doing the good work and more possibility for success. In light of the global health pandemic Covid-19, we are facing unprecedented circumstances that bring forward the need for food security, strengthening immune systems through nutrient rich whole foods, and knowing where our food comes from. Along with the current mantras of "flattening the curve", social distancing, and self quarantine, it is imperative that we shrink the supply chain of our food to support our health and community resilience.
Amidst all of the current challenges, Jeremiah and Nicole continue to put in the hard work due to the overwhelming support of their local community. Their customers show up and show gratitude for the effort they put into their craft and for the amazing products they offer to the people in their region. The face of every child that comes to the farm and holds a baby chick is motivation enough to keep the two working, even when times are tough.
Today, Jeremiah stands firmly in his belief that, "Modern agriculture needs to transition from an extractive approach to a regenerative one in which the value of a farmer's role in producing quality food extends to their care of the environment and the people that come together as community and connect to it." It is for this very reason that Jeremiah and Nicole have made the decision to work with Agrarian Trust to preserve their farm for generations to come. Though Vernon Family Farm has experienced success as a business, they truly believe that aligning their work with that of Agrarian Trust will ensure a substantial, positive, and lasting impact on their local community.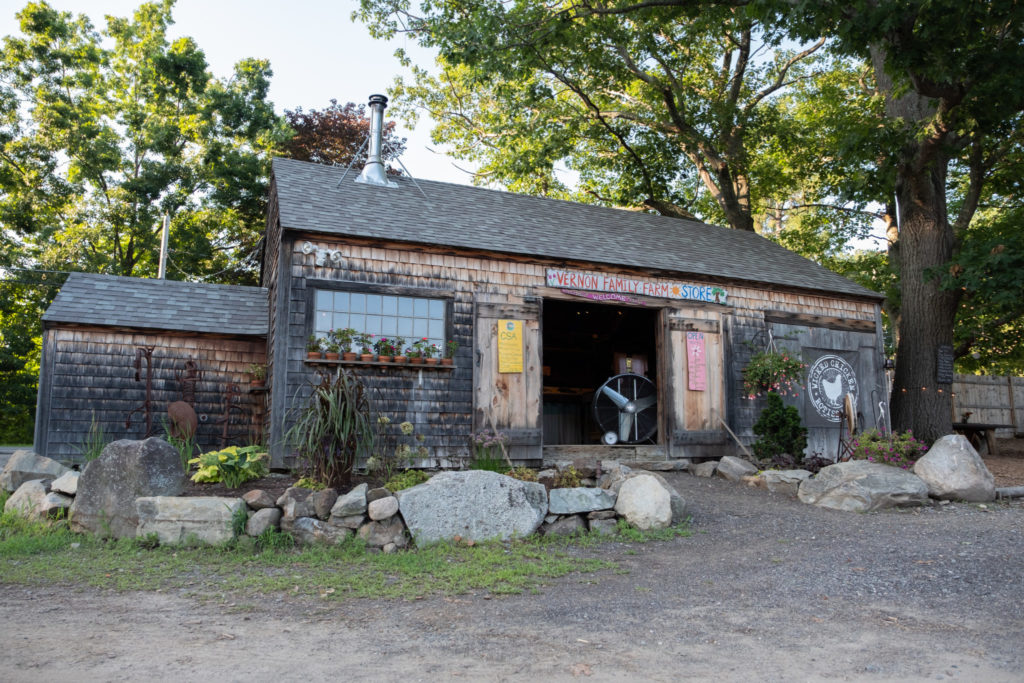 Vernon Family Farm is choosing to be an Agrarian Commons Founding Farm because Nicole and Jeremiah believe that through the Agrarian Commons model Agrarian Trust brings passionate, resource-rich, and aligned experts to the community. They see Agrarian Trust's efforts to preserve the unique and important roles of each small farm within each local Agrarian Commons community. As climate change continues to stress communities, Vernon Family Farm feels inspired and hopeful about the ways in which Agrarian Trust aims to maintain, bring together, and support the diversity and health of rural populations across the United States.
Nicole and Jeremiah chose to work with Agrarian Trust over a land trust or other conservation trust due to the personalized and comprehensive approach offered for the whole farm. The land is already protected with a conservation easement held by Newfields Conservation Commission and other land and resource based trusts offer solutions focused on protecting resources and preserving habitats. Agrarian Trust offers protection of the cultural practices of the small farmer that provides for their livelihood and offers a service to the community. Agrarian Trust values the regenerative systems put in place by the grower that will allow the land to remain productive for generations to come.
When it comes to the legacy of Vernon Family Farm, Nicole hopes to "show that small farms can and should thrive in their communities for generations." With the support of Agrarian Trust, Jeremiah and Nicole feel that this is possible. To learn more about Vernon Family Farm and their offerings, visit their website, follow them on Facebook and Instagram, and visit the New Hampshire Agrarian Commons webpage.
---