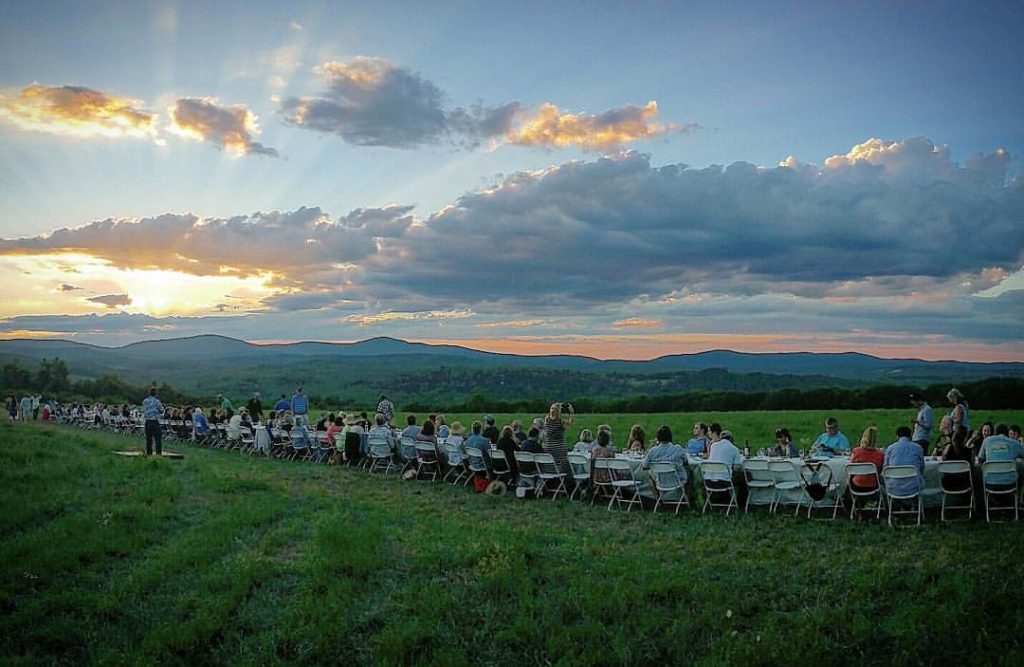 On May 4th, 2020, Agrarian Trust announced the launch of a transformative new model for community-based farm and ranch ownership and tenure, the Agrarian Commons. After several years of development and collaborative input, the Agrarian Commons launches in 10 states across the country. Co-founded with 12 farms representing 2,400 acres of diversified agriculture serving local foodsheds and communities, the Agrarian Commons is a profoundly collaborative endeavor and central to Agrarian Trust's mission to support land access for the next generation of farmers.
Agrarian Trust was founded in 2013 to address the staggering loss of farmland and the extreme challenges facing farmland seekers. Initially launched as a project of the Schumacher Center for New Economics, Agrarian Trust was established by a diverse group of stakeholders from across the United States, many of them farm service providers and beginning farmers who have witnessed firsthand the formidable obstacles facing agriculture's next generation. After another convening of stakeholders in 2014, we released Agrarian Trust's Principles, which we made public at our 2014 Our Land Symposium. Over the following two years, we sought funding to expand our organizational capacity and, in 2016, held another Our Land Symposium. In 2017, we joined alongside the Greenhorns and faith communities from across the country to launch a new initiative, FaithLands, and in 2018, we gathered with 30 faith leaders working at the intersection of faith, ecological stewardship, and farming to solidify the coalition and develop the FaithLands coalition.
Starting in 2019, we began to co-create the Agrarian Commons model through a collaborative process in which two Agrarian Commons Creation Committees gathered over the course of two years to develop and refine the model. Members of the first group included national organizations, attorneys, and aligned partners. The second group consists of founding farms and organizations across the 10 states where a local Agrarian Commons has now been established.
The Agrarian Commons seeks to build on the successes of food and land-based movements and offers an innovative model to promote equity and support regenerative agriculture. Founding board members of the 10 Agrarian Commons are 58 percent women, 63 percent farmers, and 85 percent local to the regions the Agrarian Commons serves. Further demographic information on our Boards and the communities that are part of the Agrarian Commons will be forthcoming.
The model's innovations in land ownership, tenure, and access address two primary barriers for beginning and exiting farmers: the high cost of land and the high debt burden of modern agriculture. The model decommodifies land through locally governed Agrarian Commons to support farmland access for dispossessed farmers and farmers of color, rebuild human relationships to the land, and return natural capital to land.
Transformation in how we own, use, and value land are needed now more than ever. Human disconnection from land, the climate crisis, and the catastrophic loss of habitat and species directly impact food security and the health of farms, humans, community, and the earth. The consolidation of industrial agriculture imperils our farms and food systems: Every day, 37 mid-sized farms close across the country. Current crises further expose our failed food system.
At the foundation of land injustice is the dispossession and theft of land from Indigenous peoples, Black farmers, and other communities of color. More than 60 percent of farmworkers are people of color, yet people of color own less than 2 percent of all farmland in the United States. Underlying all of this is the reality that we are in the midst of 400 million acres of U.S. farmland changing hands as a generation of farmers and ranchers retire.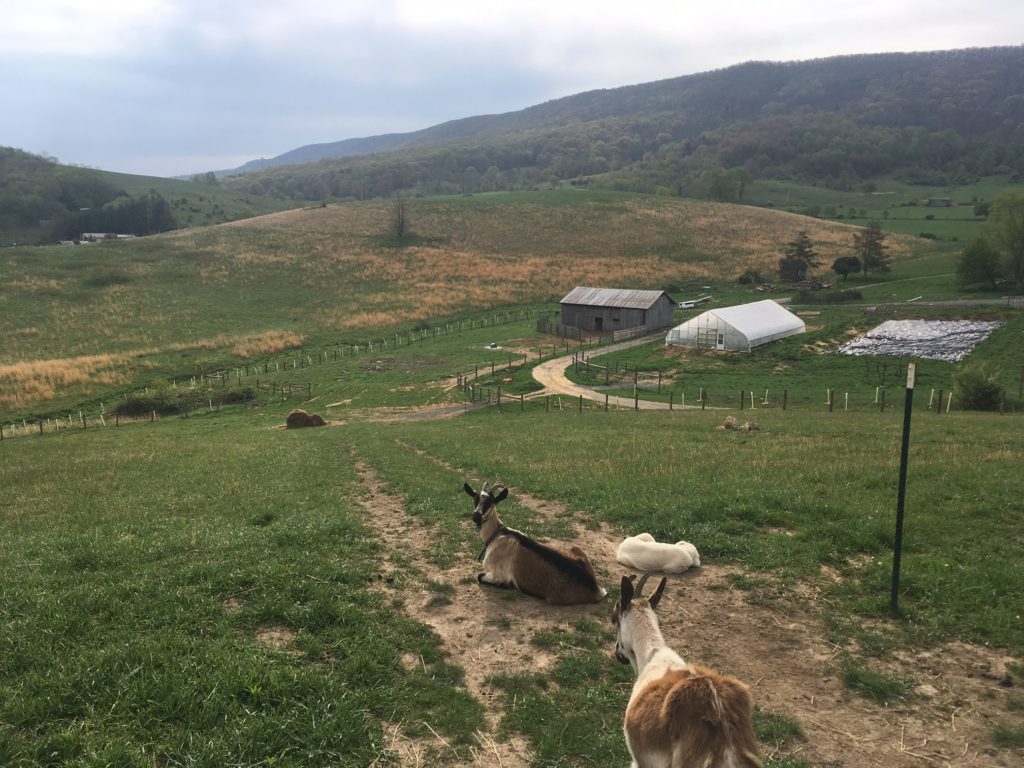 Why We Need an Agrarian Commons
Hundreds of thousands of acres of farmland have been lost in recent decades due to consolidation and over-development. Mid-sized farms have been among the worst affected by the expansion of industrialized agriculture and extreme corporate concentration. Yet mid-sized farms operate at a scale that can feed, employ, and anchor communities. The dominance of this extractive, exploitative model of production "externalizes" the costs of its impacts as much as it destroys the social and ecological fabric of its surrounding community. A great deal of the best quality farmland has thus been drastically damaged or placed out of reach of most small and mid-scale producers. These and other trends related to industrial agriculture harm local economies and deepen inequities in land ownership.
Acquiring farmland is often a prolonged struggle for beginning farmers. From the skyrocketing cost of farmland to a lack of financial resources and support, thousands of beginning farmers have little hope of developing financially viable businesses. Elder farmers who wish to retire and pass on their farms to a new generation often find themselves trapped as so few beginning farmers can afford to purchase their farms. Elder farmers in need of health care and end-of-life care are in some cases all but forced to sell their farms on a market that brings compensation only through values derived from extracting from, consolidating, or developing the farm in ways that harm the land.
The Agrarian Commons model works to address many of the difficulties facing farmers at these different stages of life by creating an equitable path forward for our elders to retire with dignity and for beginners to get a strong start, without being forced to take on crushing debt.
How the Agrarian Commons Works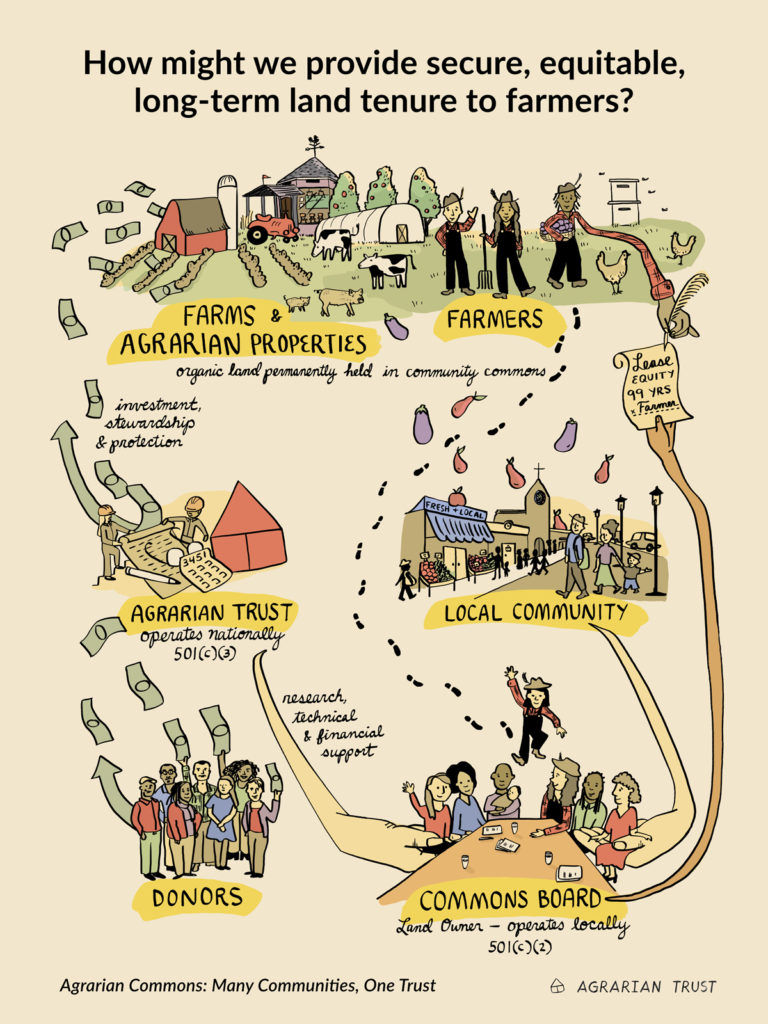 To Help End Inequity, Hold Land in Common
According to a new report by Meleiza Figueroa and Leah Penniman, one of the major long-term solutions to economic and environmental justice in the United States is "securing access to affordable, high quality farmland" in a way that recognizes and breaks down historic and structural injustice towards Black and Indigenous people, other communities of color, and other groups facing discrimination and marginalized from access to land and capital.
The Agrarian Commons model is our contribution to bringing about lasting and transformative change within an exploitative system of land ownership. The model addresses land access issues and poor agricultural practices at their roots by addressing fee ownership of land, the debt required to access land, and an exploitative system that values land as a market commodity. In return, farmers receive affordable and long-term equitable access to the land structured in a way that ensures community ownership, local oversight, and shared stewardship.
As a national organization, we are learning of the impacts of the coronavirus pandemic on the farms we work with across the nation and gaining an understanding of why some farms are doing better than others — tripling produce production, doubling-down on CSA markets, experiencing increased sales, and so forth — at a time when global supply chains are stressed. It seems apparent that farms with community-aligned practices and direct sales outlets located within close proximity to their end-consumers are responding well to supply gaps. The Agrarian Commons model seeks to enable and strengthen these types of connections.
Agrarian Trust cannot on its own halt the transfer of 400 million acres into corporate ownership. However, by launching a model that is innovative but informed by similar successful examples, replicable throughout the country, and guided by Agrarian Trust's national network and legal tools, we hope to sow the seeds of transformative change. Agrarian Commons provides a path for communities throughout the nation to collectively expand upon and bring community-owned agriculture to a national and powerful scale.
You can help us transform land ownership and tenure, sustain the livelihoods of farmers, bring justice to those who have been marginalized and shut out, and take back market share from industrial agriculture. Together, we can restore the health of our planet and our communities.