Sisters of St. Joseph / Brentwood Farm + Peconic Land Trust

By The Sisters of St. Joseph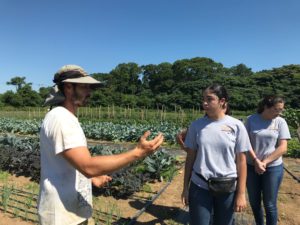 Founded: 2016
Where: Brentwood, Long Island
What: 27 acres leased to organic farmers
Mission/Vision/Guiding Principles: See Land Ethic Statement

The Story of Brentwood Farm & The Peconic Land Trust

The Sisters of St. Joseph are the stewards of the 212-acre Brentwood campus, located in one of the most densely populated (and lowest-income) parts of Long Island. In 2015, the sisters affirmed a Land Ethic Statement laying out the principles that would guide all future decisions regarding the land they hold in sacred trust for the next generation. Their first step in fulfilling their land ethic was to begin researching options for preserving the land.
Sister Karen Burke and five other sisters on the planning committee reached out to Peconic Land Trust, which runs a farm-incubation program and leases land that it holds to farmers. Peconic conducted a site evaluation, assessing the land, structures, soils, zoning, and surrounding uses, and then created a concept plan in balance with the sisters' Land Ethic Statement. Learning that the majority of the Brentwood campus consists of prime agricultural soils, Peconic suggested that they transition some of the land into agriculture, highlighting the need for farmland access on Long Island.
By 2020, there were seven leasing farmers all farming organically, as stipulated by the sisters and written into their lease agreements.

Lessons/Tips for Landowning Faith Communities
1. Begin by making the right partnerships.
You don't have to know everything, but you do need to find people who can advise, educate, and guide you.
2. Welcome farmers and neighbors into the space. Share your plans with leadership and the members of your faith community.
Considering the needs of local residents is part of the sisters' land ethic, but their neighbors are not the only people to benefit from the farms. Many of the sisters who live at Brentwood are retired, and love the life and energy on the campus. 
3. Build from your partnerships. Learn about the many possible models for protecting and restoring a piece of land.
Consider the many projects underway at Brentwood, all in partnership with Peconic Land Trust and other agencies:
Siting and installation of a solar array that now generates 60 percent of the electricity for the Brentwood campus
27 acres of farmland protected in partnership with Suffolk County, prioritizing farmland in an increasingly developed area
40 acres of woodlands protected in partnership with New York State, prioritizing groundwater quality, woods free of deer, and native plants that have become rare on Long Island
35 acres of open space to be preserved in partnership with one of the sisters' lessees, Long Island Native Plant Initiative, prioritizing native meadow habitat 
4. Articulate your values.
The entire Brentwood campus is zoned for 1-acre residential development. The sisters could have sold 40 acres for development and made very good money. Given their location, any land left unprotected or unplanned for would have a high chance of being developed. By articulating their beliefs and intentions in a Land Ethic Statement, the Sisters of St. Joseph enabled clear decision-making and charted a path that would align with their deepest values.

Support Land Access For The Next Generation Of Farmers
Subscribe to our newsletter