Kristina Villa at the Southeast Regional Biodynamic Conference
October 8, 2022 @ 10:30 am

-

11:30 am

CDT

$50 – $150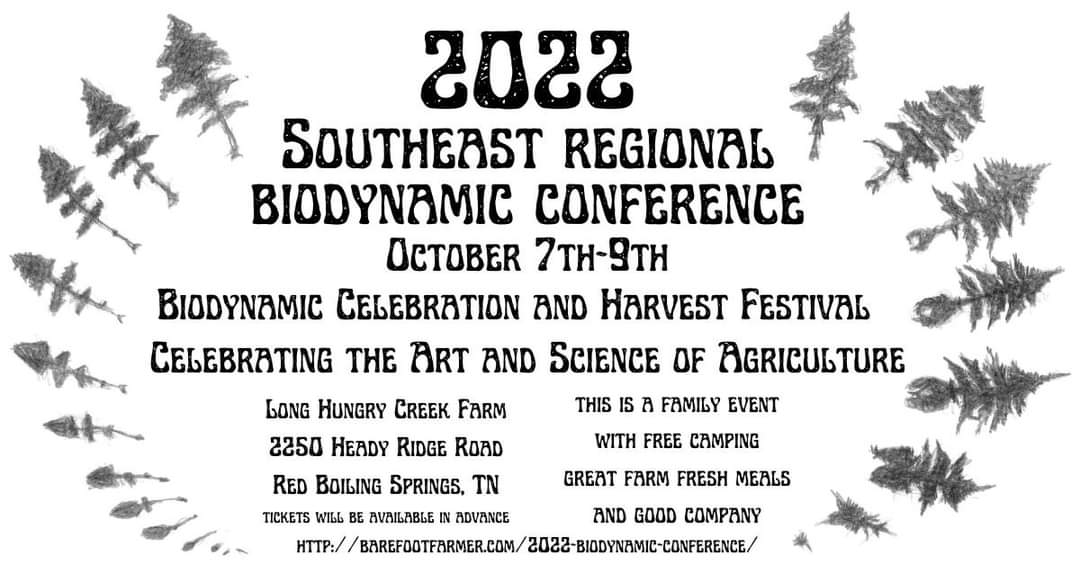 Communications Director Kristina Villa will be presenting at the Southeast Regional Biodynamic Conference at Long Hungry Creek Farm in Red Boiling Springs, TN.
Community-governed land held outside of the private market can increase land access and justice for the next generation of farmers and ranchers, while creating a pathway for aging farmers to retire with dignity. This conversation comes at a time of great land transition as 400 million acres of land are expected to change hands over the next decade. With an aging generation of farmers and ranchers soon retiring, and land often sold to be used for leisure rather than for active food production, farmland can be prohibitively expensive for those interested in entering the farming profession. Agrarian Trust is a new type of land trust—one that is proactively moving toward land justice by offering low-barrier access to farm and ranch land to stewards using regenerative agricultural practices.
In this session you will learn about Agrarian Trust, the Agrarian Commons model, and together we will explore case studies and examples of the work and successes across the country.
Kristina
 Villa is a farmer, communicator, and community coordinator who believes that our connection to the soil is directly related to the health of our bodies, economy, and society. With over a decade of social media experience and over seven years of vegetable farming and cattle management experience, 
Kristina
 enjoys using her skill sets to inspire change in human habits and mindsets, causing the food system, climate, and overall well-being of the world to improve.